Looking for a Professional Resume Writer? Resume Not Getting Results? Consider This Before Hiring Help
Whether testing the waters, eager to make a career pivot, worried about job security, or just plain miserable in your  job, the first step toward finding or changing jobs is a resume and, often, an updated LinkedIn profile.
The question becomes: is it worth it to hire a resume writer?
If you've been job hunting, are you seeing results? If you haven't started yet, is your field competitive? Are you aiming to make a drastic leap into a next-level role or even a new industry? Has it been ages since you've had to write about yourself?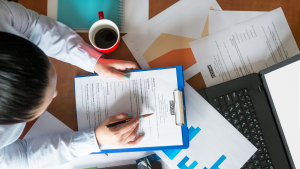 If the answer to these questions is no, and you trust your writing talents, then investing in a professional may not make sense. However, if you answered yes to any of these questions, then collaborating with a professional is worth exploring.
If you are contemplating working with someone to craft your resume and LinkedIn profile, it's important to do your homework. Here are a few things to consider:
CREDENTIALS
There are a number of industry-recognized resume writing certifications. Each has slightly different requirements, but the bottom line is that each requires the writer to submit a resume for approval by an expert panel.
The National Résumé Writers' Association (NRWA) offers a discerning resume writing credentialing program for resume writers (the NCRW, which stands for Nationally Certified Resume Writer) and a program for learning the ins and outs of LinkedIn (Nationally Certified Online Professional Expert or NCOPE), and online directories where one can search by location and area of specialty, amongst other categories.
PROCESS
Each writer has a unique process. Some will ask that you complete a questionnaire; others will go through the discovery process during conversation.
Some may ask to see an old resume; others may be willing to write one from scratch. Others meet face-to-face while others conduct consults over the phone.
Decide what works best for you when making your selection.
TURNAROUND
Turnaround times can range from days to weeks. Sometimes you can wait, and sometimes you can't. Many writers offer RUSH service delivery with an extra fee. Evaluate your needs before making an investment.
RECOMMENDATIONS
Hiring a writer sight unseen can be daunting. References and recommendations can help. Look for accolades from past clients on a writer's LinkedIn profile or website, through Google Reviews or other sites where people are free to share their experiences.
SAMPLES
Always sample the merchandise, right? Resumes are no exception. Many professional writers confident in their work are willing to provide samples upon request. Some include them on their website or LinkedIn profile for your review.
FEES
Resume fees range from city to city and often consider the level of experience of the candidate and the writer, as well as the complexity of the writing project.
For instance, a CIO who had a professional resume written two years ago may require less work (and thus cost less) than someone looking to make the leap to a new role or industry.
Your research should give you a sense of the kind of investment that will be required for you to have your needs met.
Spending money when you are job hunting or out of a job can be scary – however, it is important to recognize that the ROI (if made wisely!) can be huge.
YOU MAY GET WHAT YOU PAY FOR
The adage that you get what you pay for usually applies, which is why job seekers should consider all factors, and do some comparison shopping when contemplating hiring a writer.
Collaborating with a resume writing professional to distill your lifetime of work into documents that present you in the best light possible is a matter that requires research and careful consideration. Do your homework and determine your deal breakers before taking the plunge.
Your career is too important to be left to chance!